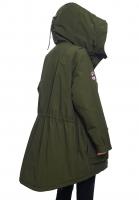 Beluga – Tsar of the fish.
Attached to the beluga whale are many myths and legends. For example, in ancient times fishermen would tell stories of a miraculous beluga rock able to protect any person from sickness, troubles, and save their ships from storms as well as invite successful fishing-haul.

When developing BELUGA, we created a goal for ourselves to create a true oversized and stylish parka, that will positively stand out from other jackets of its type.
This parka is unisex, and looks wonderfully on both men and women.

BELUGA's sleeve cuffs have a wide and graceful cut, which we found is one of the most difficult aspects to preserve when developing winter clothing.
Fabric with which the jacket is made, is tough enough to highlight the silhouette and keep it from sagging.
Unique and waterproof membrane material that reliably protects in any weather.
Comfortable, deep pockets that allow for carrying all essential items.
Under the top layer of waterproof fabric membrane is an exclusive fluff-pack down feather and high-quality double lining.

You will be amazed by the top quality of BELUGA.
With pride, made in Russia.
To purchase a product in our online store, select the product you like and add it to the basket. Next, go to the basket and click on "Place an order" or "Quick order."
When placing a quick order, write your name, phone and e-mail. The manager will call you back and clarify the terms of the order. Based on the results of the conversation, you will receive confirmation of the registration of the goods by mail or via SMS. Now it remains only to wait for delivery and enjoy the new purchase.
Checkout in standard mode is as follows. Fill out the form completely in successive stages: address, delivery method, payment, information about yourself. We recommend that you write information in the comment to the order to help the courier find you. Click the "Place an order" button.
Shipping Arctic Explorer
Friends,
Understanding how important fast and safe delivery is, we will do everything so that the desired thing from the Arctic Explorer will be with you as soon as possible - safe and sound.
We do not make money on delivery, but we work with the best companies in this field.
Courier delivery
Delivery is carried out on weekdays from 10 to 20 hours within 1 day from the moment of placing the order. When purchasing in the amount of 10,000 rubles or more, delivery in Moscow and St. Petersburg is free of charge. That is, any parka, jacket or vest will come to you for free.
A shipping service representative will contact you on the appointed day to arrange a specific time.
Delivery can be carried out both at home and at the work address.
Delivery by courier service EMS

Courier delivery outside of Moscow, Moscow region and St. Petersburg is carried out by EMS Russian Post to almost all settlements and countries.

Delivery time in Russia is from 2 to 9 days, worldwide - from 2 to 20, depending on the destination. Unfortunately, this delivery method does not work everywhere, but the list of settlements is extremely wide - there are more than 2500. If delivery to your settlement is not possible - well, we will try to find a way anyway. Our managers will contact you and offer alternative options.

Shipping costs are calculated automatically based on the EMS tariffs. We do not charge additional shipping fees.

In the case of using the EMS courier service, payment for the order and delivery is carried out at 100% prepayment.
Delivery on planet Earth:
Delivery is possible almost anywhere in the world, is carried out by express FedEx service, delivery times - from 1 to 4 working days, depending on the destination. Shipping cost is paid separately and calculated at the time of shipment.
For some countries, there are restrictions on the import of goods and a customs duty may be imposed, which is also paid by the buyer.
Other shipping methods:
We can deliver the goods with other options that are most convenient for you. When placing an order, let us know about your preferred delivery service, and we will try to coordinate all the details directly with this organization.
Suddenly, you still have questions? Write to us, we welcome letters: info@arcticexplorer.ru
1. When is it best to clean the product?
Things are better to take at the end of the season, and not before the start. This is due to the fact that dirt accumulated on the product is more likely to be eaten into the fabric when stored in a closed cabinet and then it is more difficult to remove.
2. How do I find out which cleaning is recommended for my Arctic Explorer product?
All information, including the composition, is indicated on the sewn-in tape on the lining of the product.
3. Do I need to cut something from the Arctic Explorer things before cleaning?
Not! As a rule, the accessories are sheathed in a professional dry cleaning service - to avoid damage to the fabric (the same applies to leather pullers with zippers). Clarify this question by handing the item dry cleaning.
4. After cleaning, the jacket or vest warms worse, the amount of fluff decreases.
This should not be. Be sure to contact us. Most likely, the product was not cleaned correctly. We will try to restore it.
5. After cleaning, the rivets on the leather puller became rusty, or white stains appeared, or - even worse - the cleaning ruined the product.
Be sure to contact us. We will try to restore it. We cannot guarantee the result, but we will definitely try.
6. Recommend dry cleaning?
A sensitive issue, because we cannot be responsible for the quality of an outside organization. There is good experience with Dry Cleaning No. 1, but we are not ready to take responsibility for this recommendation: even if everything was perfect with 100 cleaned things, it does not mean that it will be the same with the 101st.
7. How to care for products?
Arctic Explorer items do not require special care. Of course, the more carefully the thing is worn (less soiling, less frequent cleaning or washing, following the cleaning recommendations), the longer it will last and will look better. This is true for any clothing.